Ranch & Coast
San Diego's ultimate lifestyle magazine
During the course of my travel writing career, I've had more than my fair share of great gigs – but I really hit the jackpot ten years ago when I was asked to be the Travel Editor at Ranch & Coast, San Diego's ultimate lifestyle magazine. And how did that happen?
Kismet
In the middle of a perfectly ordinary afternoon, a message from Ranch & Coast popped up in my inbox. The  publisher had been reading clips I'd uploaded to my website and wondered if I'd be interested in writing for the magazine. Sure (I'd been a subscriber for years and loved the magazine) – but…
" How did you find me?"
"I was searching online for someone to give hula lessons to a bunch of little girls at my daughter's birthday party."
"Uh. Ok."
A dozen emails later, we'd worked out the terms of our coupling and the ensuing years have been one long, happy honeymoon.
So happy, in fact, that I never pursued the "how did you find me" question.
Then, one day I was looking at a collection of Hawaii images on the Search Stock Photos section of my site and noticed the caption on an Oahu photo: "Women giving hula lessons to local girls."
Like I said, "kismet."
Ranch & Coast's readers are affluent frequent travelers
Ranch & Coast was first established in 1983 as an exclusive Rancho Santa Fe community publication, catering to the needs of one of the most affluent zip codes in the United States. In 1995, Bob Stefanko and Collette Murphy came on board to lend their design and production expertise and three years later they purchased the magazine.
Since then, the publication's reach and coverage have expanded to other affluent areas in the San Diego region, including South Carlsbad, Olivenhain, Del Mar, Solana Beach, Carmel Valley, Santaluz, and La Jolla — while maintaining the loyalty of Rancho Santa Fe readers.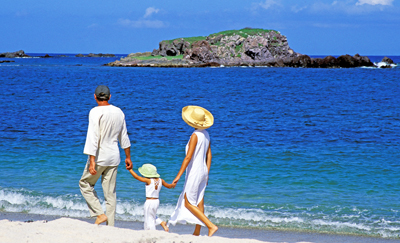 In addition to copies delivered to subscribers,  Ranch & Coast can be purchased at upscale grocery retailers (think Whole Foods) and is in-room at several luxury hotels including Park Hyatt Aviara Resort, L'Auberge Del Mar, and Estancia La Jolla Hotel & Spa.
Ranch & Coast's editorial covers a diverse array of topics important to our readers' lifestyles: galas, arts and culture, philanthropy, personalities, dining, travel and leisure, wealth, fashion, home environment, health, beauty, and physical fitness. In short, the magazine keeps readers informed about what's happening in their world.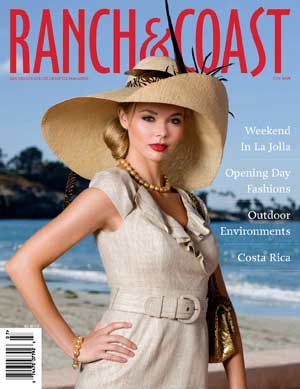 At Ranch & Coast, I plan an editorial calendar for Detours / Destinations that includes articles about places that offer adventure, indulgence, romance, family-friendly activities and a chance to disconnect from busy lives. My articles are based on my personal experience of a destination.
Samples of some of my Ranch & Coast pieces are included on this page.
Connecting with our readers
I am sometimes asked about advertising in Ranch & Coast. If that is of interest, please go to the Ranch & Coast website and click on Advertise.